Phillies Victory-Chicken Curry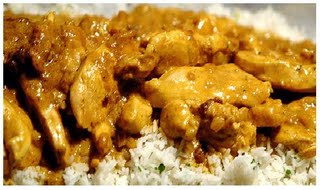 I hesitate to put quick and easy into a recipe description since it leaves out the description of the most important element of a dish. That of course is how it tastes.
When preparing meals for the family nutrition and food group balance is obviously important. Taste must be the starting point for me with the other elements following. The recipes that are in Buck Cooks are "taste tested". If it doesn't taste good to me it will not make the grade here without serious caveats as to why it is appearing.
The chicken curry recipe is here because I think it is a great tasting recipe but it also happens to be quick and easy to prepare.. I can attest to that since we prepared it the other night under severe time constraints. We got home 57 minutes before the Phillies were scheduled to play the Dodgers in game 5 of the National League Championship Series
Chicken Curry was ready for serving by the first pitch by Cole Hamel and the taste was enhanced by the Phillies winning of the National League Pennant again.
Phillies Victory Chicken Curry
(6 servings)
Ingredients:
2 Tbsp butter
1 cup minced onion
1 cup chopped celery
4 cloves garlic minced
½ cup flour
1-2 Tbsp curry powder (we use more)
1tsp dry mustard
½ tsp salt
¼ tsp pepper
1 tsp paprika
dash cayenne
1 ¼ cup strong chicken stock
1 cup light cream
3 Tbsp catsup
2 boneless poached chicken breasts diced
1 cup rice

Preparation:Step 1.
Start the rice in the rice cooker according to your cooker directions
Step 2.
melt butter in large skillet
Step 3.
add onion, celery and garlic- sauté for 2-3 minutes
Step 4.
combine dry ingredients & add to the onion mixture
Step 5.
Slowly add chicken broth and cream
Step 6.
add catsup and cook for 2 minutes
Step 7.
add diced chicken
Step 8.
reduce heat to simmer, stir occasionally for 5 minutes
Add chicken broth if the mixture is too thick
Service:
The rice should be ready and the chicken curry is served over rice.
Some traditional Condiments to accompany the dish are:
Raisins
Chutney
Shredded coconut
Peanuts
Afterthoughts:
This dish is especially good after a night in the fridge.
We sometimes add diced apple to the cooking process but skip it most of the time.
The apple in the dish is not necessary (leave it out)
The basic recipe calls for 2 tablespoons of curry – we use 4- try 2 the first time
Buck Cooks is a daily blog covering the
best recipes
and
kitchen cookware
information.